By Bishop Todd Townshend
From July 25 to August 8 of this year, I was honoured to attend the Lambeth Conference in Canterbury, UK, representing Huron to the rest of the Anglican Communion.
What an event! 650 bishops and many of their spouses gathered from 165 countries. It opened a world of new relationships and broader perspectives for me—and, I suspect, for everyone who attended.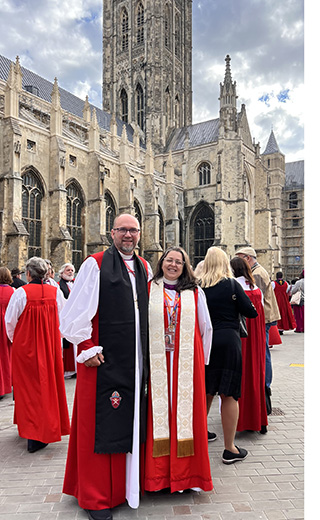 If I were to sum it up today, before having enough time to truly process the experience, I would have to say that this gathering is an essential "instrument" for testing and strengthening the bonds of affection that hold our Anglican Church of Canada together with the rest of the Anglican world. These bonds are created and renewed in relationships and God did something wonderful to unite us in, and through, our significant differences.
I will be bringing much more material to you in the months to come but, for now, I am simply inspired by much of what I learned and saw.
This material was organized as "calls" to the churches for a local response. We will be taking them very seriously because these are the central issues of our time: Mission and Evangelism, Safe Church, Anglican Identity, Reconciliation, Human Dignity, Environment and Sustainable Development, Christian Unity, Inter Faith Relations, Discipleship, Science and Faith.
We will have the opportunity to use this work to build on our mission and ministry at home, here in Huron.
The Lambeth Conference (lambethconference.org) is usually held every 10 years, but it's been 14 years since the last one. It was postponed first because there was a question about whether bishops would even come to it – from some parts of the world – because of the conflicts over human sexuality, marriage, and biblical interpretation. Then, when it was decided that we needed to gather in order to walk together, with all of our differences, but it got postponed again due to the COVID pandemic.
By the grace of God, this ongoing tension over human dignity and human sexuality did not rupture the event as many had feared. Rather, for the first time ever, a plurality of views were recognized as having been biblically and faithfully developed in some parts of the Communion. This was a very important breakthrough and, while it may seem small to some, it will be a foundation upon which to build.
The Archbishop of Canterbury did a remarkable job of hosting and leading us through the 12 days. My appreciation increased for him, for the office he holds, and for Canterbury as the irreplaceable centre of our communion in Christ.
Desmond Tutu, popularized the notion that, as Anglicans, "we meet". We meet. We get together, to see what the Lord has in store for us. We cannot do it alone. We cannot do it, whatever "it" is, fully, on our own cultural islands. So, I was very honoured to be there bringing all of you with me, as we met.
Thank you for your prayers and support.
+ Todd
Photo: Bishop Todd with Bishop Marinez of Amazonia