Leadership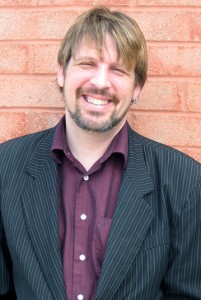 Rev Pastor Marty Levesque, Head Pastor
All Saints' Head Pastor is originally from Ottawa Ontario. For 15 years Pastor Marty worked as an automotive mechanic while putting himself through school to earn a BA in Philosophy with a Minor in history from Carleton University.
After finishing this degree, Pastor Marty left Ottawa to pursue a Masters of Divinity at Huron University College. In the spring of 2010, Marty graduated from Huron and was ordained to the Deaconate. Over the next four years, he continued his education pursuing an MA in Theology part time from Huron University College and successfully defended his thesis in September of 2014. Pastor Marty's thesis can be found at the University of Western Ontario Electronic Thesis and Dissertation Repository.
Pastor Marty first began ministry at Counterpoint Church, a new church plant in Brantford On. in 2009. After successfully planting the congregations he moved to St. Andrew Memorial, London, where he was appointed Deacon in Charge in the fall of 2010. On the Feast of St Andrew Pastor Marty was ordained to the priesthood, and in February 2011 inducted as rector of St Andrew Memorial, London. He served that parish community for 5 1/2 years.
Recently, Pastor Marty took up ministry at All Saints Waterloo on May 1st, 2016 where he is leading the community through a new building project, a replanting phase, and missional revisioning.
The focus of Pastor Marty's ministry and studies has become increasingly centered on place and space: the church and its place in modern society. He is also interested in social media, marketing and church growth and serves the Diocese of Huron as its Social Media Officer.
Pastor Marty can be contacted at:
rector@allsaintswaterloo.ca
facebook.com/martylevesque
twitter.com/martycus
Tory Poole, Youth Pastor
All Saints is very excited to welcome Victoria Poole to the All Saints team. Tory took up the position of Children and Youth pastor September 2016.
Tory has been a youth delegate to synod for seven years and held positions on various diocesan committees such as PWRDF, Huron Hunger Fund, and diocesan council. She attended CLAY as a youth twice, as a leader in training for a third CLAY.
Within her home parish of St. John's Tillsonburg she has helped organize and teach Sunday school, vacation bible school, and served as a crucifer and altar server.
Tory can be contacted at youthpastor@allsaintswaterloo.ca
Rev Gordon Kennedy, Deacon
Born in Sudbury but relocated to Etobicoke in 1944, Gordon attended Mimica High School from 1948-1952. In July of 1952 Gordon began working for the Bank of Montreal serving 2 branches in Toronto, moving to Hamilton in 1959, then on to the main offices in Sarnia in 1961. In 1963 Gordon left the bank to begin his career in life insurance administration, first with London & Scottish Assurance in Toronto. He moved to Waterloo in 1972 when Lutheran Life Insurance Society of Canada opened. He would retire from there December 1995 as Vice-President, Insurances Services.
Gordon married Margaret September of 1955 in St Agnes, Long Branch where both were active members of the AYPA (Anglican Young People's Association). They are proud parents of 5 children, 2 girls and 3 boys, 8 grandchildren and 1 great-grandchild with another on the way.
They have called St Agnes Long Branch, St Aiden's Oakville, St Judes West Toronto, St Mark's Hamilton, St Bartholomew Sarnia, All Soul's Willowdale, St Simon's Oakville parish homes before settling in Waterloo and at All Saints in 1972.
Gordon served as a lay reader in each parish until he was ordained to the vocational diaconate in May of 2000. Gordon has served the Diocese of Huron on several committees, including the Episcopal Review Committee. For many years Gordon served as part of the "on call" chaplaincy team at the 2 Grand River Hospitals. He retired from this ministry in 2005 after heart surgery.
Currently, Gordon serves All Saints as a Liturgical Assistant, proclaiming the gospel, setting the table for communion and dismissing the people at our main services.
When the Rev Marty Levesque came to All Saints in 2016, Gordon teased him that he is the 13th priest he has worked with and served over the years.
During the time he was awaiting surgery in 2004, he told people God isn't done with him yet. He continues to hope that holds true for a few more years.
Maryl Sinkins, Music Director
Maryl was born and raised in Guelph and taught high school in KW in the 1960's, retiring to raise her family. In 1991, she graduated from Wilfrid Laurier University with a Bachelor of Music degree in the church music programme. She has served as Music Director at: Livingston Presbyterian Church, Baden, (1985 – 1993) First United Church, Waterloo, (1994 – 2001) and All Saints' Anglican Church, Waterloo (2003 – present)
During her musical career, she has:
– played cello in her high school orchestra
– played a variety of pianos and organs at: retirement, nursing homes, community events, school operettas and private functions, i.e. wedding receptions
– sung in, accompanied and directed vocal choirs
– rung hand-bells and conducted a hand-bell choir
Along with her duties at All Saints', she currently teaches piano privately and performs with "The Edwardian Ensemble"
In her spare time, she likes to hang out with her dog, Timmy, at her cottage in Port Elgin.